K&N Authorized Dealers and Service Centers
K&N has created a program for authorized dealers and service centers that offer K&N products. This program provides a variety of support to dealers and installers as well as dealer referrals to consumers via internet and telephone referral systems. K&N makes over 500,000 consumer referrals per year. Click here to search for K&N retail dealers.
K&N dealers that register for this program will be verified by our sales team. Verified automotive service centers and Powersports dealers will receive a new dealer kit that includes a variety of promotional items including catalogs, brochures, posters, counter materials, and signage.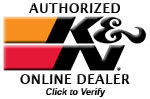 Online dealers in good standing can participate in K&N's Authorized Online Dealer Verification Program. Once a dealer's website is set up in K&N's system the dealer can place one of the authorized online dealer logos on their site with a link that will verify the dealer is authorized by K&N. This provides factory credibility to your authorized dealer status and gives your customers added confidence when buying K&N products. For more details see our page explaining how to place an authorized online dealer logo and get started.
K&N is committed to helping our distributors and dealers sell our products. We offer a range of sales and marketing tools designed to increase dealer sales. These include promotional materials such as catalogs, decals, banners, displays, and our award-winning Air Flow Demonstrator and Intake Kit Display. These items may be purchased by contacting K&N customer service or by purchasing online from our website. If your business is an installer of K&N products check out our K&N Installer Air Filter and Air Intake Warranties page.
K&N provides a variety of information on knfilters.com about our products as well as helpful guidance to help you sell and display K&N products. Our product data by part number includes product specifications, instruction sheets, dyno charts, accessories, and other information. We also provide additional product and vehicle information, including thousands of product images suitable for website use, to dealers via our automatic email notification services.
K&N maintains a worldwide network of distributors that sell the full line of K&N products to independent dealers and installers. We recommend that new dealers contact their preferred supplier sales representative for more information. If you need assistance in locating a K&N distributor or need additional information then please contact us.